Toyota Hilux Mk6 LED Tailgate 3rd Brake Light - Red
LED Tailgate 3rd Brake Light Assembly - RED
for Toyota Hilux Mk6 Vigo 2005 on
This listing is for a complete rear tailgate 3rd brake light assembly for a Toyota Hilux / Mk6 / Vigo pickup.
This lamp uses LEDs as per the original an is intended to be a direct replacement for broken or damaged brake lights.
These lights often get scratched and broken due to their location.
These lights are a sealed unit with LED lights as per the original item - if your original item has failed LED's you cant replace them as they are soldered into place.
We also have this item available with a CLEAR lens - see our other items.
These parts are E Marked and will pass an MOT.
This is not a genuine Toyota part but is made as a direct replacement for your damaged item.
This spare part incorporates a third party design and is intended exclusively to be used to repair the vehicle to its original appearance.
Fitting Details
Remove the rear inspection panel from the tailgate.
The brake light is held in place by 4 plastic tabs - 2 at the top and 2 at the bottom.
You need to push the tabs inwards then the brake light can be pushed out the front of the tailgate.
The new item simply pushes into place.
See below fitting video.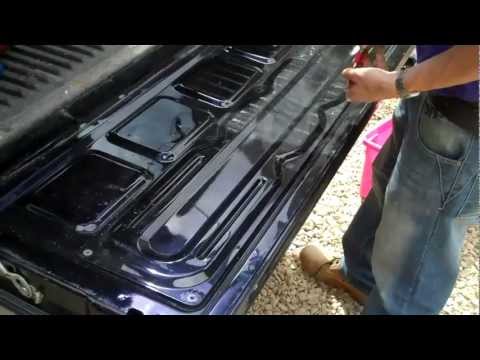 How to replace the tailgate brake lamp on Toyota Hilux Mk6 - YouTube
Video will open in a new window
Which Vehicles will this fit ?
This item will fit all Toyota Hilux Mk6 / Vigo models from 2005 - 2011.
These WILL NOT fit any other Hilux or Surf models.