LED Rear Number plate light Kit for Land Rover Discovery 1 & 2
LED Rear Number Plate Light Kit
for Land Rover Discovery 1 & 2
This listing is for a pair of LED rear number plate lights to fit the Land Rover Discovery 1 & 2.
These will fit the Discovery 1 and 2 as the rear number plate housing is the same (1994 -2004).
These replace the standard incandescent festoon bulbs / holders / lenses and will give more light / a much whiter light and use less power.
Included in this kit:
2x LED assemblies
4x Replacement spire/spring clips
The old spire clips (the clip that the screw goes into) are made of steel so tend to rust and corrode so we supply you with new ones (your screws should be stainless steel so you can re-use these).
This is for a pair of light assemblies as there are 2 used on the Discovery 1 & 2.
These light assemblies have an 18 SMD LED array that makes up the light unit.
These lights are E-marked.

No error messages will appear on the dash
This is not a genuine Land Rover item.
BEFORE/AFTER SHOWS A SIMILAR ASSEMBLY USED ON FREELANDER 1

Fitting Details
See below video of our Freelander 1 replacement (similar product/process).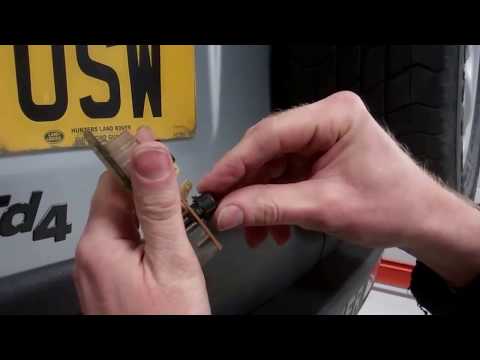 Which Vehicles will this fit ?
These lights WILL fit all Land Rover Discovery 1 & 2 models (from 1989-2004)
These lights WILL NOT fit the Land Rover Discovery 3/4 from 2005 onwards