Steering Wheel Switch Packs - Anigre Wood for Range Rover Sport 2010
Gloss "Anigre Wood" Steering Wheel Switch Packs (pair)
for Range Rover SPORT 2010 -2013
Enhance the interior of your Range Rover SPORT by fitting these steering wheel switch packs finished with real Anigre wood veneer to match your car interior.
This listing is for a PAIR of switch packs.
These look excellent with our steering wheel upgrades with the inlaid anigre wood in the steering wheel rim.
These items replace the dull grey items that come as standard from the factory on all models including the top of the range HST and Autobiography models.
These will fit all Range Rover SPORT 2010 on models.
These will be compatible with all 2010 models including paddle shift / non paddle shift etc.
You may need to change the rear part of these for your original items depending on if you have heated steering wheel or not.
We do advise that you swap over the switches and horn push from your original switch pack - we have a video guide showing this simple procedure
We also have steering wheels and other interior trim parts to match available.
Original Part - Refund Option
This is not an exchange item so there is not a requirement for you to return your old part / panel back to us.
However, if you do not wish to keep your old part and send it to us within 28 days of your purchase, (you would need to pay the return postage cost), we will refund you an amount for your old part (the refund amount for this item is given below). The part that you return must be a genuine Land Rover part.
If you do decide to return your original part, please ensure that your details are included inside the box, so that we know who is returning the item and retain proof of postage until refunded.
The amount refunded if the original parts are returned is £60.
Fitting these parts is complex and does mean removing the steering wheel / airbag etc and may be best left to specialist conversion companies.
This is a refurbished genuine Land Rover part.
Fitting Video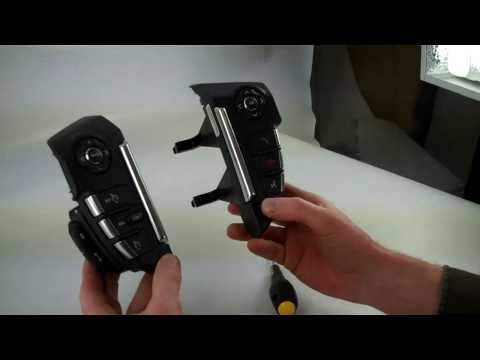 How to change switch pack facias on Range Rover Sport 2010 - YouTube
Video will open in a new window
Which Vehicles will this fit ?
This item WILL fit all Range Rover SPORT models from 2010 to 2013
This item WILL NOT fit the earlier 2005 - 2009 Range Rover Sport.
This item will NOT fit a P38 Range Rover or L322 Range Rover.