Crystal Halogen Headlight Kit (Pair) with E Mark - RHD
Crystal Halogen Headlamp Conversion kit RHD (PAIR)
to fit Nissan D21 Pickup
Upgrade the headlights in your Nissan Pickup to these new Crystal Halogen headlights.
These lights are RHD MOT passing headlights with the correct UK beam pattern.
The light pattern is set by the reflector not by the lens (as on standard headlights) so the lens is smooth giving a cleaner sharper appearance to the lights.
These lights give upto 25% more light output than standard headlights even using the same bulb !
ALL new cars use this new technology for the headlights and this is one major reason modern cars have much better lights
In addition to the better technology the reflectors on these lights are made from plastic and so it will not rust or corrode like the older metal ones.
The lenses are made from glass and so will not scratch or fade.
These lights use Halogen H4 bulbs ( not included ) which you should have in your old lights ( unless you have sealed be units fitted )
These lights are fully E Marked and are RHD MOT passing lights.
These lights do not have a side light bulb ( not needed on the pickups as there are separate sidelights next to the headlights )
This listing is for a PAIR of headlights ( no bulbs ).
The design of this lamp has recently been improved and it now does not require the 'umbrella' over the bulb to correct the beam pattern, therefore it is supplied without this umbrella.
This item is not a Genuine Nissan Part
Fitting Details
Straight replacement for standard unit - no modification or drilling needed.
No change to wiring or connector needed as the bulbs connection is the same for sealed beam and halogen H4 bulbs.
Note - the left headlight and right headlight are both the same.
See below example of fitting these headlights - this may differ slightly from car to car but should be a useful guide.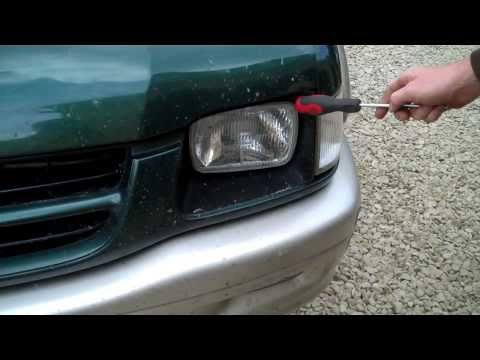 How to change the square type headlights on older vehicles - YouTube
Video will open in a new window
Which Vehicles will this fit ?
This item will fit all Nissan D21 models with the square headlights