Osram' H11 Night Breaker Bulbs for Range Rover Sport L320 Front Fog Lights (Pair)
High Power Road Legal
OSRAM "Night Breaker LASER"
H11 Front Fog Lamp Bulb upgrade ( Pair )
for Range Rover Sport L320
This listing is for a PAIR of OSRAM "Night Breaker LASER " Halogen H11 bulbs ( Front bumper Fog lamp bulbs on Range Rover Sport 2005 -2009 all models ).
Upgrade the front fog lights on your Range Rover Sport by fitting these high power bulbs. See below for fitting video.
These are the bulbs you need if you want to be road legal AND have the same light output of some illegal 100W bulbs.
The UK law specifies the maximum wattage ( electrical power usage ) rather than the maximum light output which seems odd.
These bulbs use the latest technology to achieve great light output but keeping the electrical power consumption within legal limits.
Being made in Germany and fully E Marked you can be sure these are a premium performance product.
These are supplied in an individual blister pack - you get 2 packs.
These bulbs claim to give :-
Upto 150% more light output
Upto 150 Metre long beam
20% more "White" light colour ( temperature )
The H11 bulb is a single function bulb used for the front fog lights on the Range Rover Sport
The electrical power consumption of this bulb is 55W
Even if you only need one bulb why not buy this pair of bulbs and fit them and keep your remaining good bulb as a spare - we list them as a pair as they are an upgrade and the postage cost would be the same for one or two bulbs.
These are not genuine Land Rover items.
Fitting Details
See below fitting video.
When re-fitting the new bulb it is important not to touch the glass with bare fingers as this can lead to early bulb failures.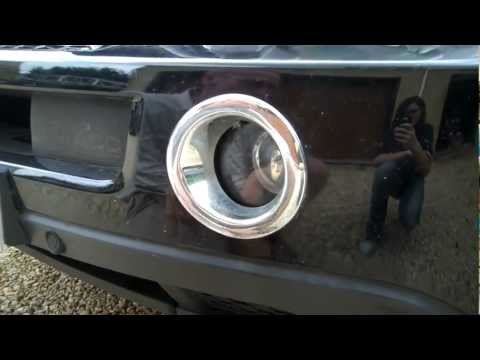 How to change Fog Light / Fog Lamp bulb in Range Rover Sport 2005-09 - YouTube
Video will open in a new window
Which Vehicles will this fit ?
These bulb will fit all Range Rover Sport models LHD / RHD from 2005 to 2009
Bulb Specification Table
| | |
| --- | --- |
| Part Number | ORB124 |
| Lens Material | GLASS |
| Base | H11 |
| Base Pin Configuration | 2 pin H11 |
| Lens Colour | Slight Blue tint |
| Base Diameter | 22 mm approx |
| E Mark Approved | Yes |
| Operating voltage | 12 Volts |
| Function 1 Power | 55W |
| Function 2 Power | N/A |