Steering Wheel - Heated - Black Piano - Red Stitch - Style 2 for Range Rover Velar
RSW494-H-BP(n)(p)(s)(RS)(AN)#L560
"Black Piano" Steering Wheel
with Sport Grip & Red Stitch
for Range Rover Velar
Upgrade your Range Rover Velar with this re-trimmed steering wheel in gloss black piano with an ergonomic sports grip.
These is a genuine Land Rover steering wheel 'core' that has been exquisitely refinished by hand by our steering wheel specialist into a sports wheel.
The high gloss black piano is a classy finish that will sit well with many different interior trims.
The wheel has a subtle racing style flat bottom shape.
As you can see from the photo, this wheel is chunkier than a genuine SVR wheel and has a lovely heavyweight feel.
The standard leather has been replaced by soft perforated microfiber leather which has been hand stitched with contrasting red thread.
Microfiber leather is an eco-friendly synthetic material which offers some outstanding properties over real leather and is a better quality than PU leather.
Microfiber leather is also scratch resistant and resistant to ageing (cracking/fading).
This steering wheel has been redesigned with an ergonomic chunky "sports grip style" design.
This is a great upgrade to your vehicle - or are ideal to replace your faded/worn steering wheel.
Note also that this steering wheel retains the HEATED function.
This steering wheel has the recesses at the back to allow for paddle shifts to be fitted.
This listing is for a bare steering wheel with no airbag and no switches.
This steering wheel can be used with both the classic type and touch type switch packs - fitment is the same.
You retain and re-use all your original wiring / airbags etc so there are no compatibility issues.
This Steering wheel / airbag can be removed in the same way as the Range Rover Evoque ( see below video )
Original Part - Refund Option
This is not an exchange item so there is not a requirement for you to return your old steering wheel back to us.
However, if you do not wish to keep your old steering wheel and send it to us within 28 days of your purchase, (you would need to pay the return postage cost), we will refund you the amount of £100 for your old part. The steering wheel that you return must be a genuine Land Rover part.
If you do decide to return your original part, please ensure that your details are included inside the box, so that we know who is returning the item and retain proof of postage until refunded.
The steering wheel that you return must be an equivalent "like for like" heated genuine wheel.
Fitting Details
The below video is provided for guidance only and no liability will be accepted as a result of following this video (video shows our Sport L494 but fitting is the same).
We would recommend that the steering wheel is changed by trained personnel only.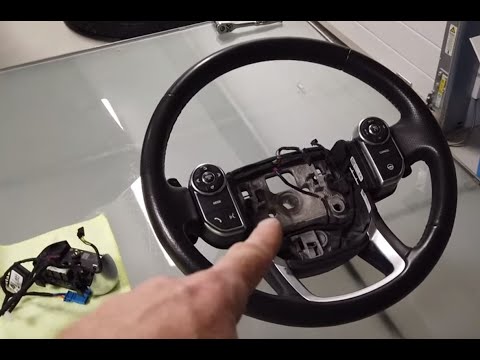 How to remove steering wheel on a Range Rover Sport L494 - YouTube
Video will open in a new window
[isdntekvideo]
Which Vehicles will this fit?
This item WILL fit all Range Rover Velar models with the heated function (you could still use this wheel if you don't have heated function, just leave the plug unconnected)