Chrome Rear Step Bumper - Stainless with PDC kit - for Toyota Hilux Mk6/7
Part number: RBT440-PDC-V2
Regular price
Price:  £204.17 GBP
Sale price
Price: £204.17 GBP
Unit price
per
FREE SHIPPING included to most UK locations
Share
Chrome Rear Step Bumper with PDC Kit
for Toyota Hilux MK6 / MK7 / Vigo
This is our latest bumper for the Toyota Hilux Mk6 / Mk7 (Vigo) complete with parking sensor kit.
This bumper has been specially made for us to fit with our parking sensor kit with holes pre-cut in the bumper.
The parking sensor kit is specially for the Toyota Hilux - it has the the indicator panel display made the same size / shape as the blanks in the switch panel on the Toyota Hilux. In addition the wires are longer than standard parking sensor kits to allow the wires to reach from the rear bumper to the front of the truck - even on double cab pickups.
Please note this bumper is not supplied with number plate lamps - you can re-use you existing ones (if you have a bumper fitted) or purchase new ones from us (part no NPL44).
We have installed this on our own company truck - see second video below.
We did try drilling a stainless steel bumper ourselves but gave up - that is why we had the holes laser cut during production at the factory !
The bumper itself is a highly polished stainless steel rear step bumper adds style, convenience and protection to your truck in a single product.
Damage to tailgates and rear lights is common on pickups due to their size and working environment, fitting this bumper with parking sensor fitted will make your life much easier.
When you are trying to reach to the back of your truck bed to get things out, standing on this step is ideal and with non slip plastic tread plate on the upper surface this makes things safe and easy.
Although this bumper looks like chrome it is actually polished stainless steel which means even if you scratch the bumper it won't rust. Chrome is a surface coating and once damaged it will expose the steel underneath and start to rust - this will not happen with this Stainless bumper.
This is not a genuine Toyota part.
Tow bar compatibility
This is a popular question and to date we have not had a truck where this bumper cannot be fitted along with a towbar. The brackets supplied with the bumper have sufficient mounting holes that allow enough adjustment to accommodate most towbars. Do not use the bolts provided to attach the tow bar to the chassis - use your original tow bar bolts as these will be rated to suit.
Fitting Details
This rear bumper mounts on 2 brackets which are mounted onto the end of the chassis legs at the rear of the truck. It uses the same mounting points as the tow bar and can be fitted along with a towbar in place as well. There is sufficient adjustment to position the bumper in a position to suit most peoples requirements. No drilling is needed to fit this product.
For fitting the PDC system this is straight forward - see below 2nd video - the key is to install the control box under the left hand seat - here you will find the RED+WHITE wire which is the reverse live feed.
See below fitting video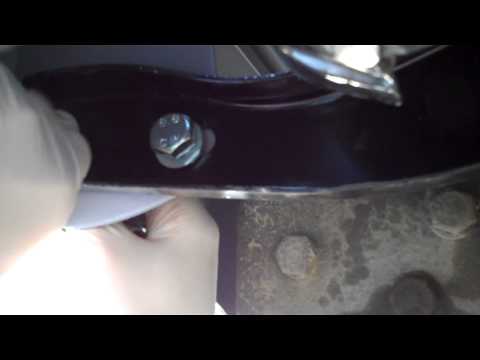 How to fit stainless steel rear bumper to Toyota Hilux Mk6 Vigo - YouTube
Video will open in a new window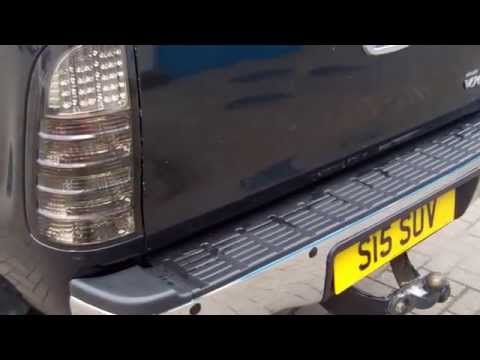 Toyota Hilux Mk6 Vigo Pickup Rear Bumper with Parking Sensor Demo - YouTube
Video will open in a new window
Which Vehicles will this fit ?
This listing is for bumper and brackets to suit the double cab Toyota Hilux Mk6 and Mk7 ( Vigo ) pickup ( 2005 on )
Choosing a selection results in a full page refresh.
Opens in a new window.