Cargo Restraining Bar for VW Van - Type 2
Expanding Cargo Bar (Type 2)
to fit VW Van
Adjustable length (push pin type)
These bars have been designed to help retain the cargo in the back of your van.
Often you may not have enough cargo to fill the rear of your vehicle and then you have the problem that as you drive your cargo decides to try and destroy itself by bouncing off the sides of your rear load area.
This expanding cargo bar is designed to allow you to create a fixed barrier to restrain your load and stop it from skating about
This is especially useful if you want to place things close to rear door for easy access - only to find them right up next to the cab when you come to unload them !
This bar is made from square section steel with rubber "feet" at each end - the feet "articulate" for a perfect fit.
The clever part of this bar is that it is telescopic - it ratchets to the approximate length by pulling outwards and then it tightens into place by twisting the bar.
Can also be used as a clothes line / clothes rail etc in your van / camper
This cargo bar varies in length from 115cm to 176cm.
See below demo video.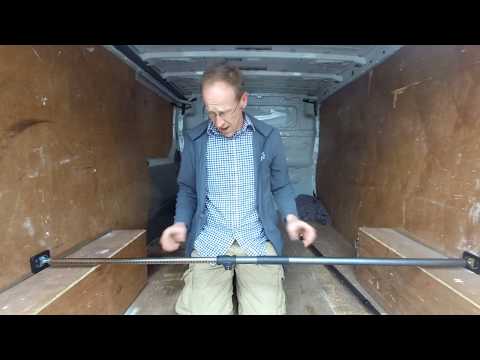 Demonstration of expanding cargo bar for van. - YouTube
Video will open in a new window
[isdntekvideo]
Fitting Details
Extend bar to approximate length then twist until tightly in position.
Which Vehicles will this fit ?
This item will fit any vehicle with a rear load area with a width between 115 cm and 176 cm
It is not recommended to use this on vehicles with a single skin side wall as the force of the expansion can damage the panels.